DAY CLINICS + LESSONS . MULTI-DAY SUP ADVENTURES . PICK YOUR POISON.
With access to a private lake to get all of our clients prepared for the river, our clinics are open to beginner paddlers and advanced paddlers alike. And those that want to extend the adventure? We've got trips for you too.
A Typical Day in one of our Intro to River SUP Clinics...
For these clinics, we start the day at a private lake in the Yakima River Canyon, honing your skills on the board as well as teaching you new techniques that you will use specifically on the river. After a quick snack, we'll head upriver and drop into the Yakima to guide and coach you during our river excursion. After 2 miles, we'll pop out of the river for a delicious, gourmet lunch at Canyon River Ranch. After our meal, we'll get back on our boards and make our way 6 miles down river. Along the way, we'll stop for snacks and cold beverages and sightseeing - and a bit of sunning time. We'll end our day where we started - on the grass at the private lake - as we enjoy an outdoor happy hour before heading home.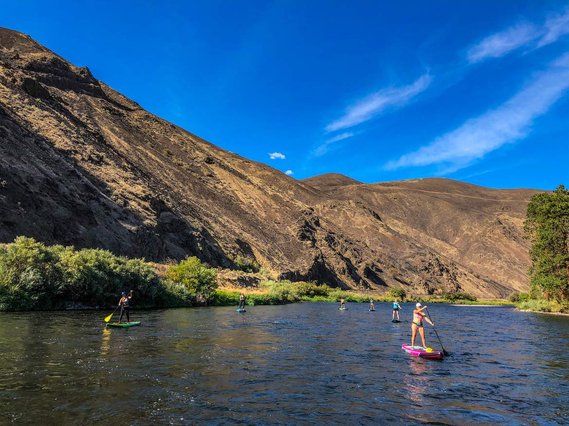 2022 RIVER SUP CLINICS
TIME: River -- 9am-4pm

COST: $280/person
***River Clinic includes clinic swag bag from one of our sponsors, lunch at Canyon River Grill, happy hour appetizers/drinks + river paddle board, paddle & PFD/Safety Equipment Rental.
*** FOR PRIVATE LESSONS AND CLINICS, PLEASE EMAIL SHANNON FOR AVAILABILITY AND PRICING.
2022 Clinic Schedule
May 22nd - Yakima River Canyon
June 10th - Yakima River Canyon
July 1st - Yakima River Canyon
July 23rd - Yakima River Canyon
August 14th - Yakima River Canyon
September 7th - Yakima River Canyon
WOMEN'S SUMMER OF ADVENTURE DAY CAMPS
Our day will begin with morning yoga, coffee & snacks on the lawn at Canyon River Ranch. Once everyone is nice and relaxed, we'll head out on a hike or trail run (The June 27th camp is the trail run and the July 8th camp is the hike) on the nearby, absolutely spectacular Umtanum Creek Falls Trail or the Skyline Trail (see photos below). After seeing some of the most spectacular views in our area, we'll head to a private lake in the Yakima river canyon where we will enjoy gourmet box lunches from Canyon River Grill.
After lunch, we will help you hone your skills & build your confidence on the paddle board and relax lake side — swimming is also recommended!
A late afternoon yoga sesh under the shade of a willow tree by the lake we will lead into a mellow happy hour full of local snacks and drinks while Shannon goes over your nutrition & endurance training plans (distances vary on your personal goals --- choose from 5K-50 miler running or walk/running) and she'll answer any questions you may have.
A fun and FULL day of adventure and fun, for sure!!!
2022 CAMPS
Trail Run, SUP & Yoga - June 17th - Yakima River Canyon - 8am-4pm
Hike, SUP & Yoga - July 8th - Yakima River Canyon - 8am-4pm